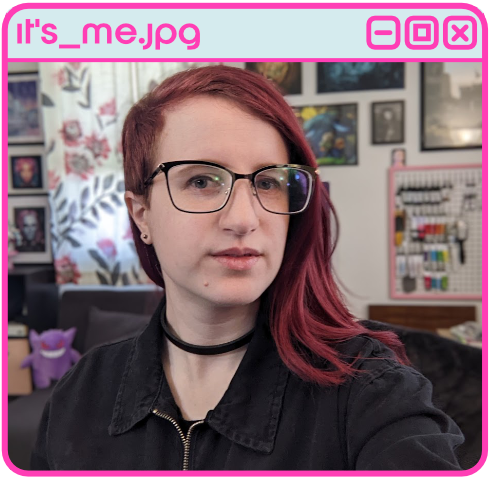 Life is sweeter when you're strange.
GlitchBerry is a one-person art and apparel store created by MadameBerry, a passionate designer who loves all things bold, bright, and surreal. Drawing inspiration from playful vaporwave, Y2K, and spooky-sweet aesthetics, I create clothing, accessories, and lifestyle goods that are as unique as the people who wear them. And of course, I have to mix my love of strawberries into my designs for a sweet twist.

Every design is hand-drawn by myself before being passed to my manufacturers for production. I stream my art on Twitch and post videos to Youtube if you'd like to see products as I make them! I value sustainability, so each item is either manufactured in low quantities or made to order to prevent excess waste, and when I can, I pack and ship my items using recyclable or compostable materials.
GlitchBerry is not just a brand, it's a community of people who embrace the unexpected and love to stand out in a sometimes glitchy world.
Want to follow MadameBerry on her personal endeavors? You can do so here!
Meet the Mascots
Berry-Chan

An online avatar given a life of her own.
Berry-Chan was MadameBerry's own avatar, her online representation. But after many years this avatar was given the name "Berry-Chan" by her loving community, and along with that came the spark of life.

Likes:

Cozy games
Platform sneakers

Dislikes:


Vibes: Vaporwave
Favorite Merch:

Head in the Clouds High-Top Sneakers

Cassia

This bubbly and fun-loving TV-Head hopes to restore the memories of a lost future. They come from a time of optimism and progress, and long to see those dreams renewed. Their screen changes to reflect their mood.

Likes:

Dislikes:


Vibes: Y2k
Favorite Merch:

Sakura iBerry Computer Acrylic Keychain

Lilichi

This spooky-sweet strawberry demon loves to cause a little mischief. She was accidentally summoned to our realm when a magic circle was infused with the wrong element, but she ended up liking it here enough to stay.

Likes:

Dew on a chilly morning
Spooking unsuspecting humans

Dislikes:

When people try to bite her tail


Vibes: Spooky Sweet

Favorite Merch:

Summoning Strawb Enamel Pin